Regular price
Sale price
$89.15 USD
Unit price
per
Sale
Sold out
Unfortunately, this item is sold out!
| | |
| --- | --- |
| Capacity | 13000 mAh |
| Voltage | 12V |
| Cell(s) | N/A |
| Weight (Lbs) | 1.52 lb |
| Chemistry | Lithium Ion |
View full details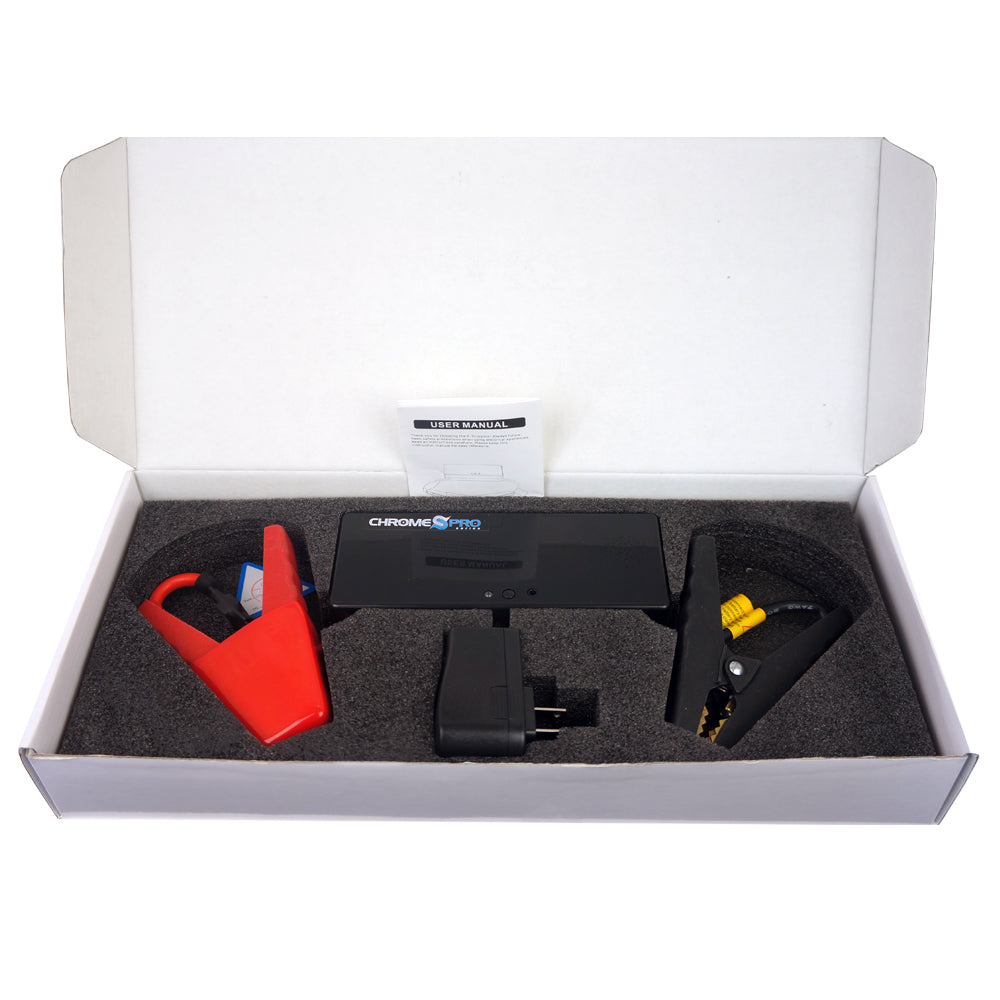 Chrome Battery has a great selection of the most reliable types of Chrome Pro Series Rescue Jump Starters. Chrome Pro Series offers our Rescue Jump Starter to replace your existing jump starter and bring your vehicle's battery back to life. Our fully automatic Rescue jump starter provides a full charged jump start when needed, making sure you are not stuck on the road in this fast-paced world.
Chrome Pro Rescue Indicator Light
Color of Light: RED (Low Battery) YELLOW (Half Battery) GREEN (Full Battery)
For Rescue Jump Start of 12V Vehicle
1. Press the Rescue Jump Starter switch, and check the color of the indicator light and make the sure the light is yellow or green.
2. Connect the red Rescue jump starter battery clamp of jumper cables to the vehicle's positive (+) battery terminal and the the black Rescue jump starter battery clamp of jumper cables to the vehicle's negative (-) battery terminal.
3. Start your vehicle.
4. When the vehicle has started, disconnect both the red and black Rescue jump starter clamps from the vehicle's battery terminals within 30 seconds.
Charging Chrome Pro Rescue Jump Starter
Use the home adapter to charge your Chrome Pro Rescue jump starter while the indicator is in Yellow or Red color
1. Plug the home adapter into a universal socket.
2. Connect 12v/1A input port of the Rescue jump starter to the other end of the home adapter.
3. A full charge will occur in approximately 4 hours.
Top notch Customer Service and Satisfaction is our top priority at Chrome Battery.
All returns or exchanges are handled with our '60-Day No Questions Asked Money-Back Guarantee'.
Affordable Pricing
24 Month Warranty
Midwest location in the heart of America (Indiana)
All orders placed by 3pm (EST) will ship same day!
Extremely fast shipping (2-3 Business Days)
Guaranteed to meet or exceed original specifications
Chrome Battery strives to provide every customer with an exceptional buying experience and top quality chargers at unbeatable prices. Thank you for choosing Chrome Pro Series Rescue Jump Starter by Chrome Battery; your business is greatly appreciated.
| | |
| --- | --- |
| UPC | 640213402385 |
| Capacity | 13000 mAh |
| Cell(s) | N/A |
| Charging Time | Approx 4 Hours |
| Chemistry | Lithium Ion |
| Color | Black |
| Depth | 2.75 in |
| Length | 7.08 in |
| Manufacture | Chrome Pro Battery |
| MPN | N/A |
| Reverse polarity protection | yes |
| Voltage | 12V |
| Width | 1.37 in |
You might also like
Recently Viewed Products